WIN the Valentine's Giveaway!!!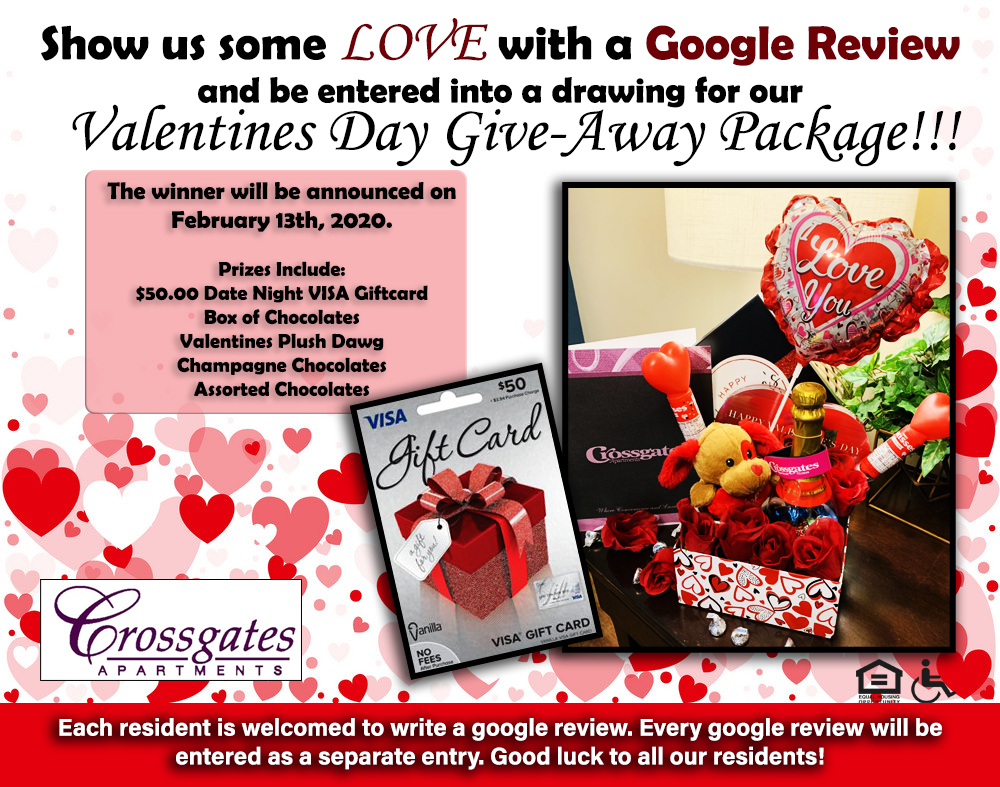 Crossgates is giving away a Valentines Day goodie to one lucky resident! Enter into this drawing by sending us some love on a Google Review! Please follow the instructions below to post your review:
1. Go to www.google.com
2. Type in the search bar "Crossgates Apartments in Starkville" (or click here: https://www.google.com/search?rlz=1C1NHXL_enUS733US737&ei=4FA8Xv35KJGKtQWjsrKQAQ&q=crossgates+apartments+review&oq=crossgates+apartments+review&gs_l=psy-ab.3..0i22i30l2.140532.141718..142072...0.2..0.203.782.4j2j1......0....1..gws-wiz.......0i71j0i67j0.Xwxev1sMdWA&ved=0ahUKEwj96eDIvb3nAhURRa0KHSOZDBIQ4dUDCAs&uact=5 )
3. Click on the "Google Review" link under the title Crossgates Apartment Homes (look for the stars *)
4. Write your review
5. Give us a call after you post your review! We will enter your name for the Valentines Day Giveaway drawing!

Thank you for showing us a little love on Google! Good luck to all of our residents!
February Specials!!!